World of Amiga 1998

World of Amiga 1998 announced!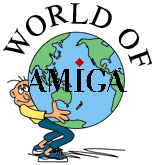 After quite a bit of confusion, we can assure you all that the WOA '98 show will indeed be taking place.
The date has been set for the 15th-17th May at the Novotel in London. Already the show is shaping up to be an unmissably exciting event, with some of the most interesting developments for years planned.
We can expect to see some of the most eagerly awaited developments of the last few years turning up, including the BoXeR from Index Information, the A5000 from Power Computing / DCE, the PowerUp cards from phase 5 and the latest developments from HiQ's Siamese. There are plans for some big giveaway competitions, and a multi player Quake competition is on the cards.
There will be a devcon as part of the schedule of events, where it is hoped that Amiga Inc will be revealing some of the core developments of OS3.5 to the public for the first time. There are also plenty of surprises yet announced!
The organisers of the World of Amiga show, reacting to criticisms last year that the show clashed with the football, are planning a special World of Amiga cup final suite where visitors to the show on the Saturday can view the match live on a large screen while eating realistic meat pies and drinking beer in the company of fellow Amiga owning football fans.
This one is going to be a real big one, so keep a space in your diaries for mid May. WOA '98 will be the show that tells the UK that the boing is back! We will publish further information on the World of Amiga show as soon as we can, so be patient.
In the meantime, trade inquiries and parties interested in exhibiting can email woa@cu-amiga.co.uk for further information. Please don't mail to this address if you just want attendance information, it will be publically announced as soon as it is available.