CU Amiga Subscription Special Offer!
Wow! Check out our 12 for the price of 9 offer! Due to popular request, this subscription special offer is valid for three months. *
With these incredible rates you not only get a great price on the World's Best Amiga Magazine but you also get it on time, every time. The renowned covermounted Super CD-ROMs are also monthly so there is another rate for the CD version. European and Worldwide subscriptions are sent by Airmail only!
CU Amiga 12 Month Subscriptions
(Standard prices are in brackets)
United Kingdom
European Union
Rest of the World
12 Month Floppy
£40.00 (£54.00)
£55.00 (£70.00)
£75.00 (£90.00)
12 Month CD
£54.00 (£72.00)
£69.00 (£87.00)
£89.00 (£107.00)
Note: Prices in UK Pounds Sterling. Overseas orders to be paid in Sterling. Subscription orders may take up to 28 days to start!
* Offer Extended Until 30th May 1998
---
Subscriptions orders and enquiries
---
Snail Mail Subscription Details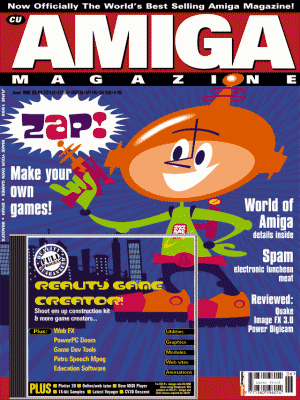 Tower Publishing,
Tower House,
Sovereign Park,
Lathkill Street,
Market Harborough,
LE16 9EF.
Phone: +44-(0)1858-468888
Fax: +44-(0)1858-432164
Payment acceptable with; Cheque, Post Order, International Money Order, Access and Visa credit cards.
Orders payable to EMAP Images Ltd.

In the event of a problem with subscriptions which is not being resolved with Tower Publishing, please contact Zoe Wharnsby on the following;
Phone: +44-(0)171-9726700
Fax: +44-(0)171-9726703
E-mail: zoe.wharnsby@ecm.emap.com